Coloring Artificial Rock Above the Pacific Ocean- Cabo San Lucas, Mexico
About Jeff Snyder
Jeff Snyder was the president of Artistic Rock Creations Inc., founded in August 1998 in the Santa Ynez Valley, and specialized in creating rockscapes and naturalistic water features in the Santa Barbara County area. Since then, Jeff has narrowed his focus into assisting design firms with detailing, construction methods, and in-field consulting to develop, design and create all styles and types of water features, and providing drawings for swimming pool building department submittals.
As a Cal Poly SLO graduate and registered Landscape Architect, Jeff Snyder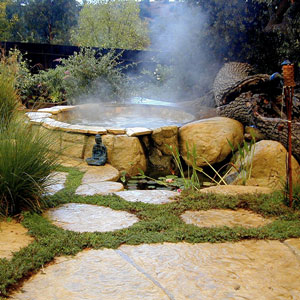 has over 25 years of experience designing and building naturalistic rock formations, ponds, lakes, streams, and fountains. His experience includes 6 years with di Giacomo, Inc. in the Los Angeles area, where he participated in many projects throughout the world. Projects that include Kinojo Golf Club in Okayama Prefecture, Japan; San Diego Hospice Wall in San Diego, California; Korbel Residence in Cabo San Lucas, Baja, Mexico; Hong Kong Convention Center in Hong Kong; and The Tom Petty Residence in Reseda, California. Jeff also spent five years in Maryland where he continued creating naturalistic water features. Out the many water features built, several were for the prestigious East Coast Landscape Architecture firm of Oehme, van Sweden & Associates- one notable pond and waterfall was built in The Memorial Garden at The CIA Headquarters in Langley, VA. The remainder of his experience has been spent with his company, Artistic Rock Creations Inc., where Jeff has created a vast range, of over a hundred water feature projects, including: 1 acre vineyard lakes, a golf course waterfall, Koi Ponds, swimming pools appearing as naturalistic ponds, and The Danny Elfman/Bridget Fonda Residence Lake and Stream.
Jeff also authored an article that was published in Fine Gardening Magazine, "How to build a dry streambed", October 2011 issue.
Artistic Rock Creations Inc. and Jeff Snyder have retooled the emphasis from construction projects to designing and consulting on water features, to assisting design firms with front end concepts and solutions, and helping to reduce the need for revisions in the office or changes in the field. Additionally, working directly with client's to give them the confidence their visions can be accomplished and their expectations actualized. Finding efficiencies, resolving leaks and water flow issues, and troubleshooting existing problematic features are added services offered to both designer and client.
With his education, background, and experience, Jeff Snyder's creativity allow him to assist the client in the early stages of the design process so that their ideas and concepts can be translated into detailed and quality results.